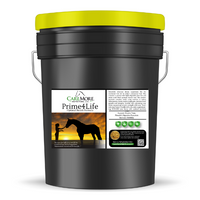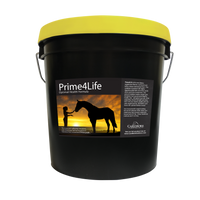 Prime4Life | Hard-Keepers, OTTBs & Seniors
Description
Handmade in the USA 🇺🇸 from American-Sourced Ingredients
✅ Safe for Competition and Race Day +WILL NOT TEST+
✅ Safe for all classes and ages of horses, ponies & minis, including pregnant or nursing mares and breeding stallions.
Prime4Life is our most powerful weight-building formula.
Prime4Life is for Hard Keepers, Seniors, and OTTBs.
Palatable even to the fussiest of eaters.
See results within 30 days!

PLUS, if you board your horse the stable manager will love how convenient this is!
Who is it for?
Prime4Life
is a feedroom essential for anyone rehabbing an un-thrifty horse or as a maintenance dietary supplement for hard-keepers like OTTBs and older horses. This formula provides the nutrition your hard keeper needs to be prime for life.
Prime4Life
all-in-one dietary supplement fills the nutritional void left by today's commercial feed. This container is packed with highly-digestible plant fats and amino acids which promote muscle tone.
Prime4Life
promotes complete health using nutrition to reduce inflammation, enable healthy weight gain, increase hoof growth and integrity, healthy skin, gleaming coat while supporting muscle strength and tone. Don't risk your horse's health with a'la carte supplementing. REWARD your horse with optimal nutrition today!
✅ Support Muscle Tone
✅ Flourish Digestive Function
✅ Increase Mobility
Used by many professionals as an all-in-one whole-health dietary supplement.
Most users report seeing favorable changes in their horses after the first 15 days of use. Prime4Life formula is safe for all classes and ages of horses, ponies, minis and foals including pregnant & nursing mare and breeding stallions. Prime4Life enhances your horse's health by providing the essential nutrients you can't get from bag feed and long stem forage alone.

Research confirms that the heat and pressure of the manufacturing process, especially in pelleted feed, kills off most of the "raw and live" nutrition in feed essential for good health. Additionally, there is no way these nutrients could be bagged without risk of spoilage, that's why it's impossible for complete nutrition to come from bagged feed.

When you provide your horse with the ingredients in Prime4Life you will provide your horse all the benefits of RevolutionEQ Original plus the added benefits of key ingredients thought to assist with weight gain, improved digestion, expedited and less expensive rehabilitation with the convenience and safety of an all-in-one formula. You will see a visual difference in your horse's condition. Horse's coats will become shinier, hoof quality will improve, digestion function will increase, and their top-line will fill out. Many horse owners report reduction or even elimination of many chronic nutrition related conditions such as dermatitis,recurring bouts of mild colic, nervousness and anxiety.

CareMore Nutrition makes everything here in our own clean, safe restaurant style kitchen - eliminating risk of cross contamination.

What's Inside?
Serving size scoop (4 ounces) included in package.
*See product images for additional information printed on product label.
Ingredients
: Ground Flax, Extruded Soybean, Black Sunflower, Soybean Meal, Brewer's Yeast, Canola Oil, Coconut Oil, Flaxseed Oil, Whole Brown Flax, Wheat Germ Oil, L-lysine, Yea-Sacc, Live Product, Dried Lactobacillus Acidophilus Fermentation Product, Dried Lactobacillus Casei Fermentation Product, Dried Lactobacillus Plantarum Microbial: Sucrose, Dried Whey, Sodium Silico, Aluminate, Dried Enterococcus Faecium Fermentation Fermentation Product.
Prime4Life
formula has a golden-brown color, glistening with oil, a brown sugar-like consistency, with a sweet granola smell. 
Guaranteed Analysis:
Crude Protein (min) 23.66%
Crude Fat (min) 37.04%
Crude Fiber (max) 15.77%
Moisture (max) 6.80%
Lysine: 1.97%


Cost Per Day
Prime4Life

5 POUND (~32 servings) $2.42 per day/per recommended use*

25 POUND (~170 servings) $1.89 per day/per recommended use*



*Cost Per Day is calculated using regular one-time purchase pricing and does not include loyalty discounts earned by subscribing to AutoShip.

Sold in 5 pound buckets (30 day supply) and 25 pound size for multiple horse owners.


Frequently Asked Questions
To view our Frequently Asked Questions page
click here, 
FAQ's 
Compare Formulas
Shipping
All orders are hand-mixed and shipped within 24 business hours via UPS or USPS from Rochester, NY.
Flat rate shipping fees based on number of items and weight.
Examples below:
RevolutionGI - Ships Ground $9.67
(8.8 pound product | actual ship weight 9 pounds)
RevolutionEQ 30 day -Ships Ground $9.67 
(5 pound product | actual ship weight 6.6 pounds)
RevolutionEQ -25 Pound/Professional Size -Ships Ground $19.97
(25 pound product | actual ship weight 28 pounds)
* No single order will be charged more than $29.97 for shipping regardless of weight.

Any shipping cost over and above the flat rate fees will be absorbed by CareMore Nutrition as a "thank you" for your loyalty.
Any questions feel free to use our Live Chat or call the office 585.325.3373 M-F 9am-5pm EST.
Return Policy
We know you take your horse's (or dog's) health seriously or else you wouldn't be considering CareMore Nutrition. We want you to be completely satisfied with your purchase; so if for any reason you feel our products did not perform as promised, simply send us an email at orders@caremorenutrition.com or call our home office 585.325.2273 and we will cheerfully issue you a hassle-free refund.  

Even if the bucket is empty.
We call this our "Bottom of the Bucket" Guarantee.
We'll get your order ready!
All orders are freshly mixed and shipped within 24 business hours. As soon as your order is boxed we will email or text you the UPS tracking information. You can click on the tracking number any time to see "real time" tracking updates, including delivery confirmations - perfect for deliveries directly to your boarding facility, horse show grounds or trainer. Your order will arrive with your last name printed on the product label.