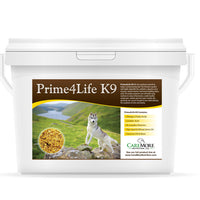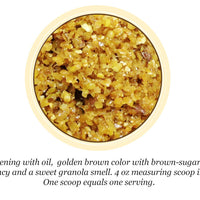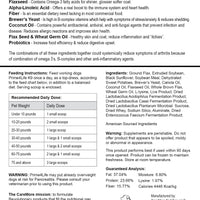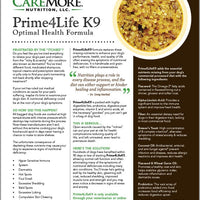 Description
Handmade in the USA 🇺🇸 from American-Sourced Ingredients.
Prime4Life K9 fills the nutritional void left by today's commercial dog food. This container is packed with highly-digestible fats, probiotics, digestive yeast enzymes, natural vitamin E and muscle building amino acids. This product promotes over-all health using nutrition to reduce inflammation, enable healthy weight gain, stabilize glycemic index, healthy skin, gleaming coat, muscle strength & tone while relieving the symptoms of stress and anxiety.

⛔️ WARNING: This formula may put already overweight dogs at risk for Pancreatitis. Please consult your veterinarian prior to using this product.

What's Inside?
Prime4Life K9 formula has a golden-brown color, glistening with oil, a brown sugar-like consistency, with a sweet granola smell. No fillers. Nothing added. Oils are heavy and may settle so please stir occasionally. Serving scoop measure enclosed with product.
Flaxseed - Contains Omega-3 fatty acids for shinier, glossier softer coat.
Alpha-Linoleic Acid - Offers a real boost to the immune system and heart health. Fiber - Is an essential dietary need lacking in most commercial food.
Brewer's Yeast - Is high in B-complex vitamins which help with symptoms of stress/anxiety & reduces shedding.
Coconut Oil - Contains powerful antibacterial, antiviral, and anti-fungal agents that prevent infection and disease. Reduces allergic reactions and improves skin health.
Flax Seed & Wheat Germ Oil - healthy skin and coat, reduce inflammation and "itchies". Probiotics - Increase food efficiency & reduce digestive upset.
The combinations of all these ingredients together could systemically reduce symptoms of arthritis because of combination of omega 3's, B-complex and other anti-inflammatory agents.

Ingredients & Safety
⛔️ WARNING: This formula may put already overweight dogs at risk for Pancreatitis. Please consult your veterinarian prior to using this product.

Ingredients: Ground Flax, Extruded Soybean, Black Sunflower, Soybean Meal, Dehydrated Sweet Potatoes, Brewer's Yeast, Canola Oil, Coconut Oil, Flaxseed Oil, Whole Brown Flax, Wheat Germ Oil, L-lysine, Live Product, Dried Lactobacillus Acidophilus Fermentation Product, Dried Lactobacillus Casei Fermentation Product, Dried Lactobacillus Plantarum Microbial: Sucrose, Dried Whey, Sodium Silico, Aluminate, Dried Enterococcus Faecium Fermentation Product. 
🇺🇸  All ingredients are American grown and sourced.
*See product images for additional information printed on product label.
Guaranteed Analysis:
Fat: 37.04%
Protein: 23.66%
Fiber: 15.77%
Moisture: 6.80%
Lysine: 1.97%
Calories 4446 Kcal/kg
Cost Per Serving
Prime4Life K9

Available in 3 bucket sizes. 

1 pound = approximately 1 month's supply for a 40 pound dog.

Cost will vary based on dog's body weight.
Please see label above to calculate the daily cost for your specific dog.

*Cost Per Day may be calculated using regular one-time purchase pricing and does not include loyalty discounts earned by subscribing to AutoShip.

Compare Formulas
Shipping
All orders are hand-mixed and shipped within 24 business hours via UPS or USPS from Rochester, NY.
Flat rate shipping fees based on number of items and weight.
Examples below:
RevolutionGI - Ships Ground $9.67
(8.8 pound product | actual ship weight 9 pounds)
RevolutionEQ 30 day -Ships Ground $9.67 
(5 pound product | actual ship weight 6.6 pounds)
RevolutionEQ -25 Pound/Professional Size -Ships Ground $19.97
(25 pound product | actual ship weight 28 pounds)
* No single order will be charged more than $29.97 for shipping regardless of weight.

Any shipping cost over and above the flat rate fees will be absorbed by CareMore Nutrition as a "thank you" for your loyalty.
Any questions feel free to use our Live Chat or call the office 585.325.3373 M-F 9am-5pm EST.
Return Policy
We know you take your horse's (or dog's) health seriously or else you wouldn't be considering CareMore Nutrition. We want you to be completely satisfied with your purchase; so if for any reason you feel our products did not perform as promised, simply send us an email at orders@caremorenutrition.com or call our home office 585.325.2273 and we will cheerfully issue you a hassle-free refund.  

Even if the bucket is empty.
We call this our "Bottom of the Bucket" Guarantee.
We'll get your order ready!
All orders are freshly mixed and shipped within 24 business hours. As soon as your order is boxed we will email or text you the UPS tracking information. You can click on the tracking number any time to see "real time" tracking updates, including delivery confirmations - perfect for deliveries directly to your boarding facility, horse show grounds or trainer. Your order will arrive with your last name printed on the product label.